Lockbox Client User Guide
Setup
Lock Box enables you to share electronic files (E-Files) with Adjudicate Today in a way that is totally private and secure. Once you are set up, it's extremely safe and most notably, easy to use. This is an overview of the main functions of the Lock Box Client Portal.
You will need to contact Adjudicate Today on 1300 760 297 to set up your Lock Box. Adjudicate Today staff will establish your Lock Box and email you a username and passphrase.
Java
Lock Box uses Java. Since Java is commonly used, you might have it installed on your computer already. If not, when you first access our Lock Box page, you'll be prompted to install it. If you have an old version of Java you will be prompted to update it. The download is free and you should be able to simply follow the prompts. NOTE: This step is only required once.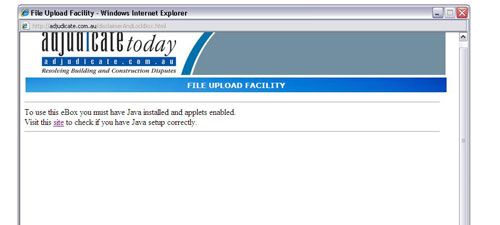 The Lock Box works with Explorer 10 and all versions of Windows from Vista forward. It will NOT work with Windows XP. If you experience issues, access to the Lock Box may be achieved by using a different web browser. We recommend 'Firefox' which may be freely downloaded from https://www.mozilla.org/en-US/firefox/new. We are not aware of issues when using an Apple based computer.
Logging in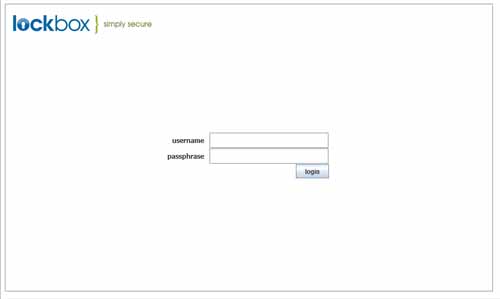 Portal login
If you have Java installed already, you will be presented with a login screen. All you need to do here is enter your username and passphrase.
When you log in for the first time, you will be prompted to change your passphrase. You should change it to something you can easily remember. From then on you can use your own passphrase.
NOTE: If you forget your passphrase, please contact Adjudicate Today so that we can reset it.
Managing your files
Lock Box is laid out much like your computer's file browser. There are folders, and there are files and folders within those folders. You can navigate around Lock Box by clicking on the folder that you would like to browse.
Uploading files

Portal upload
You can drag the file from your computer to the Lock Box folder and the upload will begin. Alternatively you can click on the green arrow button at the top of the Lock Box window, which will then prompt you to find the file to be uploaded. The upload can be stopped at any time by clicking the 'Stop' button next to the progress bar.
The upload speed might be slower than usual, due to the encryption that is taking place to ensure the security of your data.
Create a new folder

Portal new folder
You can create new folders and sub-folders in your Lock Box. To create a new folder, simply click on the 'Create New Folder' button at the top of your Lock Box.
Delete a file

Portal delete file
To delete a file or folder, simply highlight the item you want to delete and click the 'Delete' button (the red cross) at the top of your Lock Box window.
Rename a file
You can rename a file or folder by right clicking it and selecting 'Rename...'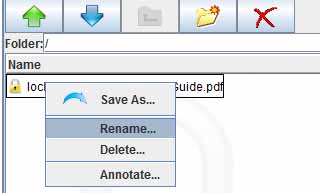 Portal rename
You will then be able to change the name of the file. Hit <return> when complete (or <Esc> to cancel).
Notifications
You can receive email notifications when changes are made to your Lock Box.
To receive notifications for changes to your Lock Box:
Click on the 'File' menu.
Select 'Enable Notifications'. This menu item changes based on the option that you currently have selected. If notifications are already enabled, it will instead read 'Disable Notifications'.
Click on the 'File' menu again and select 'Set Email Address'.
Enter your email address in the 'address' field.
Type your email address again in the 'confirm' field.
Click 'Done'.
You will now receive an email whenever changes are made to your Lock Box.
Once you have finished uploading your documents, Adjudicate Today staff will download the documents and delete the files from the Lock Box. Assuming you have "Enabled Notifications" you will receive an email when this occurs.